We are a different kind of law firm. In early 2013, we joined forces to form a law firm that satisfies our shared vision of how law should be practiced. First and foremost, we wanted to practice law in an atmosphere of utmost trust and collegiality, which would allow us to collaborate with each other on our clients' matters. We strongly believe that this team approach gives our clients the best possible results.
Our size gives us an advantage. We limit the types and number of cases we take on so that we can provide each of our clients the personal attention he or she deserves. In addition, we are not burdened with high overhead. This gives us flexibility to be able to provide our clients with high-quality legal work for a reasonable fee.
Our clients are referred to us by people who know the quality of our work: current and former clients and other lawyers. Therefore, we make it our priority for every client to be satisfied not only with our representation, but with how they were treated.
We know the legal community. Combined, we have over a century of experience practicing law handling all types of civil and criminal litigation, as well as general business and corporate matters. We know our way around the courtroom and the board room.
Whether you are an individual, a start-up company, or an established business, and whether you need a lawyer to handle a business, employment, civil litigation, or criminal matter, we will do everything in our power to see that your legal matter is handled expertly, efficiently, in a timely manner, and with integrity.
___________________________________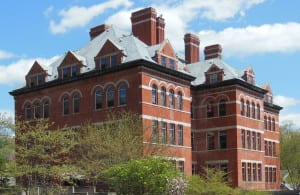 The offices of Pinales Stachler are located in the historic Lincoln School building. Opened in the Columbia Tusculum area of Cincinnati in 1898 as part of the Cincinnati Public School system, the building is on the National Register of Historic Places. Designed by architect Henry Siter, it is one of Siter's last remaining schools that were built in Cincinnati. It is common for visitors of the Lincoln School to see tiny lizards scurrying about the grounds surrounding the building. These lizards are commonly referred to as "Lazarus lizards" after the prominent Cincinnati family by the same name. The introduction of these lizards to Cincinnati in 1950 occurred when a young boy in the Lazarus family brought eight of the reptiles home from a family visit to northern Italy. The lizards flourished in the lime soil surrounding the Lincoln School building, and they continue to add to the building's charm to this day.